Sewells conducted over 1,000 interviews with decision-makers involved with fleet & mobility during September 2018 to create the Sewells British Business & Mobility Report. The report is designed to provide a single source of insight to measure appetite for change, share perceptions on new developments and highlight the role in which suppliers can help remove barriers in order to position themselves to win.
Fusing the diverse range of opinions of British business' with the latest market developments across fleet & mobility enables senior stakeholders to confidently pepare for change.
Topics covered include:-
Awareness and reaction to local and national policy
Potential of electric vehicles & alternative fuel technology
Attitudes & Aspirations for mobility (people)
Attitudes & Aspirations for mobility (goods)
The objective of the mobility report was to identify opportunities relating to British mobility requirements and understand the potential shift in future expenditure.

Key metrics
Identify level of knowledge regarding each topic (local & national policy, electrification, MaaS people and goods)

Current attitudes and expected response to change (and actions planned/taken)

Exploration of underlying attitudes, preferences & potential triggers to change

Identification of barriers / perceptions related to each topic

Overall measure of planned changes impacting on the number of journeys, modes of transport and impact on the company car over the next five years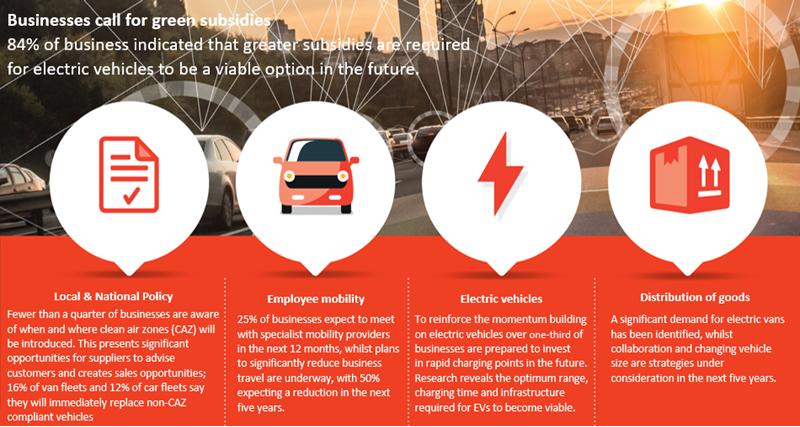 Report Package
48 page report - PDF format
1,000 interviews with business leaders influential in fleet & Mobility decisions
Data file provided to enable risk analysis by business size, job function and industry sector
Brand awareness of suppliers of EV's and MaaS (movement of people and goods)
Market opportunity progiling, analysis of active investors in electric vehicles and MaaS
Future expectations for the company car (demand, fuel powertrain and viability)
£3,499.99 + VAT
AVAILABLE NOW