The UK has 396,000 businesses operating light commercial vehicles, with a combined fleet of 2,302,000 vans. Only 3% of companies operate more than 25 LCVs, but this still accounts for 1,335,000 vehicles, or 58% of the parc. Small businesses account for a high proportion of van sales, with 311,000 companies running five or fewer vans, equating to a total parc of 808,000 LCVs.
The engine room of this growth has been the SME (small- and medium-sized enterprises) sector, where figures from the Office for National Statistics (ONS) reveal that in the three years from 2013 to 2015 there was an 8.3% increase in the number of companies employing one to nine people, and a 9% rise in the number of companies with 10 to 49 employees, representing 81,815 and 16,825 new businesses respectively.
Structural changes in certain sectors of the UK economy also appear to underpin the long-term demand for light commercial vehicles. Uncertain times do, however, present LCV market suppliers with golden opportunities to build closer relationships with customers.
Analysing hundreds of in-depth surveys and interviews with fleet decision-makers, conducted for this report, reveals a straightforward set of requirements from van operators.
The latest edition, UK Van Market Report 2018, covers the following topics: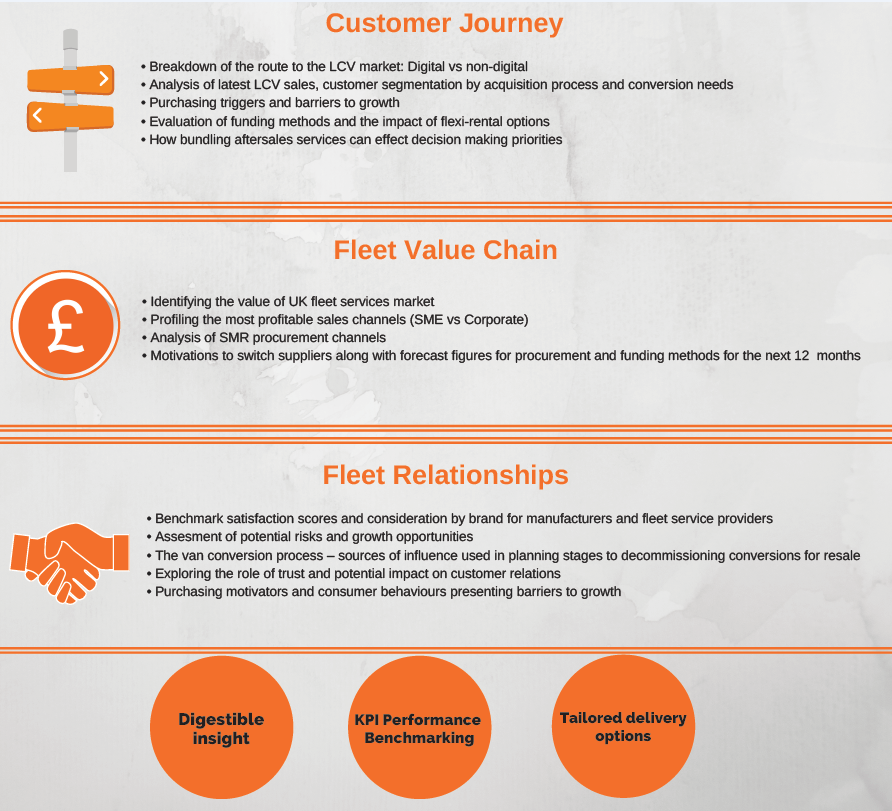 Overall, the van market is a far more rational environment than the emotive company car sector. LCVs are acquired for specific work purposes, and suppliers that can provide appropriately specified and converted, reliable vehicles, with convenient servicing, at a competitive price are best placed to maintain market share in the choppy waters ahead.
The Sewells Van Market Report is available to order now.
For enquiries please email: [email protected]